NXT Level Futbol provide innovative and unique soccer training methods along with player development opportunities to help players reach their highest level...their NXT Level.
---
---
Chris Jennings - Founder & Technical Director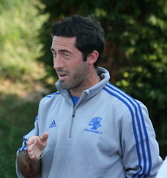 Chris is an experienced professional soccer coach who has trained and developed an assortment of skillful players across the DMV Metro Area. He currently serves as Boys ECNL Director at Braddock Road Elite Academy, Head Coach at Bishop O'Connell High School, Virginia ODP State/District/Academy head coach, D.C. United camp instructor and Founder/Technical Director at NXT Level Futbol. At BRYC he has led six teams to State Cup Finals. He has transformed the program at Bishop O'Connell and led them to championship matches in the prestigious and nationally-renowned Washington Catholic Athletic Conference (WCAC - 2016 Coach of the Year) and Virginia State Championships. He has also spent time with the Arlington Soccer Association and the New Jersey Youth Soccer Association.

Many of Chris' former players have played collegiately at institutions such as the University of Virginia (2014 College Cup champions), Wake Forest (2016 College Cup finalists), West Virginia, George Mason, Akron, Penn State, Navy, Old Dominion, William & Mary, UCLA, VCU, etc.. Others have gone on to play professionally for clubs and academies all over the world such as DC United, Olympique de Marseille, Borussia Dortmund, FC Groningen, Leeds United and more.

His invaluable experience in both the youth and professional soccer ranks has provided an outstanding platform for him to teach players and help them achieve their goals of reaching their next level. Jennings spent time with the NY/NJ Metrostars (NY Red Bulls) before moving on to D.C. United where he focused on soccer programs and youth club relations. He was part of a DCU staff that won MLS Cup in 2004, a 3-2 win vs Kansas City at the Home Depot Center in Los Angeles. In 2010, Chris was honored by Major League Soccer for numerous Best XI staff awards for his work at D.C. United.

Jennings played collegiately at DIII powerhouse York College of Pennsylvania where they went 55-28-3 with 2 CAC Finals appearances during his time. Due to an injury-riddled career at YCP, he served as a volunteer assistant coach helping the coaching staff with scouting, recruiting and daily training sessions. Chris played youth soccer in New Jersey for the Hibernian Athletic Association, Bordentown Travel Soccer, Princeton Soccer Association and the NJ Olympic Development Program.
---
---
Vassar Cates

Cates has immense experience developing top youth players and is originally from the Dallas/Fort Worth area. He has experience working with US Youth Soccer Technical Director - Sam Snow and as a staff coach with the North Texas ODP program. His professional playing experiences include time with the Dallas Sidekicks and Vietesse - both of the Professional Arena Soccer League. Vassar returned to the DFW area and currently works as a team coach with Northern Texas ODP program. He has previous coaching experience with Braddock Road Elite Travel Soccer, Alexandria Soccer Association and the Fort Worth Football Club.
---
---
Asa Fox​
| | |
| --- | --- |
| | Asa is an extremely talented young coach from the Northern Virginia area who specializes training youth players with innovative programs and highly technical activities. He was a 4-year starter at Ferrum College where he earned USA South All-Conference 1st team, All-State 1st team and USA South Conference Offensive Player of the Week. Asa has coaching experience with the Little Kickers program at the Dulles Sportsplex, Old Dominion FC/Cesena USA, Alexandria Soccer Association and BRYC Elite Academy. He serves as an Assistant Coach at Bishop O'Connell HS and Virginia ODP. |
---
Stephen King

"Kinger" was drafted by the Chicago Fire of Major League Soccer in the 3rd round of the 2008 SuperDraft. He also played for the Seattle Sounders and D.C. United. A heavily recruited player from Shawnee HS (NJ), he chose the University of Maryland where he finished 2nd on the all-time assists list. Stephen was named the 2007 ACC Scholar-Athlete of the Year for men's soccer and was named to the ESPN The Magazine's 2007 Academic All-America Men's Soccer Team.

---
---
Brian Mahoney
Brian is a Philadelphia-area native who excelled with the local club side, Lionville Strikers youth club. He also played for and was a team captain at area powerhouse Downingtown High School before attending the University of Richmond where he received degrees in chemistry and physics. Mahoney also serves as a varsity assistant and head jv coach for Bishop O'Connell, one of Northern Virginia's most successful private school programs.
---
---
Nelson Maldonado

Nelson is a veteran of the Northern Virginia soccer scene. He grew up playing club soccer for Braddock Road Youth Club and Northern Virginia Soccer Club. He also played for the NOVA Royals in the Super-Y league, reaching the National Tournament in 2009 and 2010. Maldonado played his high school soccer at Bishop O'Connell where he was All-WCAC 2nd Team as a senior while also picking up the Coaches Award. Nelson continues his coaching duties for O'Connell as an Assistant Coach.
---
---
Devon McTavish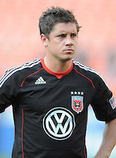 Devon was drafted by D.C. United of Major League Soccer in the 2006 MLS Supplemental Draft. He scored his first goal for DC in the CONCACAF Champions League against Jamaican side, Harbour View in 2008. McTavish enjoyed a successful collegiate career at West Virginia University where he ranks third in school history with 75 appearances. His youth soccer days were spent locally between Chantilly and Winchester, Virginia and Devon starred for James Wood High School, located in the northern tip of the Shenandoah Valley.
After retiring from professional soccer, McTavish joined the men's soccer staff at Drexel University. In 2013, he helped lead the Dragons to the CAA regular season and conference championship title, earning them a seat in the NCAA tournament.
---
---
Dave Salas

Dave has been one of the premier footballers in the DMV area for years and an excellent mentor for youth players. Salas' performances were widely recognized as he earned many individual awards such as All-Conference, All-State, All-Region and was a preseason All-American in Virginia. A supremely-gifted, two-footed player, Dave coaches at BRYC Elite Academy and specializes in helping young players work on individual aspects of their game.
---
---
Daniel Valcicak

Daniel has great experience as a goalkeeper at all levels. He starred at Gonzaga HS before moving on to St. Francis University where he earned First Team All-Conference GK (2012 and 2013) and NEC All-Tournament (2012 and 2013). Valcicak also received Adidas Player of the Week recognition in October 2010 for his outstanding 20-save performance against Penn State. Daniel holds St. Francis records for career shutouts, GK minutes played, wins and saves in a single game. He went on to play in the Australian 2nd division for FNQ FC Heat where he earned GK of the Year and Coach's Player of the Year in 2014.
---
---
Contact Us
Email: NXTLevelFutbol@gmail.com
Phone: (609) 658-6944
Mail: NXT Level Futbol Academy, LLC. - P.O. Box 1134 - Fairfax, VA 22038-1134